Television and high fashion have been crossing paths more often in past decades. It's quite interesting to see the the Fashionistas on Twitter, Facebook, Tumblr and Instagram week after week posting about their favorite looks TV. Some memorable shows that have heightened the fashion frenzy in the past are: Mad Men, Gossip Girls, Pretty Little Liars, Downton Abbey and everyone's favorite…Sex and the City.
Now wait! There is one show that has been the talk of the water cooler since its first season in 2012 and that is ABC's "Scandal" with Kerry Washington. The show's weekly drama-filled sit by the edge of your seat thriller has captivated audiences everywhere. Yes the political storyline is interesting but lets not kid ourselves, the curiosity of what will Washington wear this week is the main attraction. The character of Olivia Pope embodies strength, courage and hard work. Combine this with a spitfire attitude, a top notch wardrobe which is designed by British Costume Designer Lyn Paolo, and you have a hit on Thursday nights. The show is at its best in its third season and although some of Kerry's looks include power suits, there is not doubt that her power COATS have left quite an impression. Season three, episode 1 wowed everyone when Kerry wore a stunning white cape trench coat by Burberry which sold out in minutes. Every episode is like a feast of outerwear du jour that includes labels like Max Mara, Stella McCartney, Armani and more. It's a page straight from Fashion Week that we can't wait to see every Thursday night.
So One Style at a Time readers tell us, are you a fan of the show "Scandal" or of the fashion? As a bonus we have included some affordable options below to help you achieve the Olivia Pope style.
Burberry Coat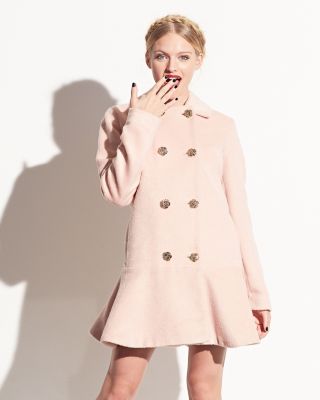 Bestey Johnson Pretty Betsey Faux Mohair Jacket Rose, $224
Ralph Lauren Hooded Wrap Coat $325