Lately, there have been many discussions with regard to all the sheer clothing being worn on the red carpet to what is sold even at your local retailer. If you recall back in 2014 at the CFDA awards, Rihanna stunned the world when she wore a nude fishnet custom Adam Selman dress, headscarf and gloves covered in 216,000 Swarovski crystals. That moment seemed to have left a mark in fashion history and although little was left to the imagination RiRi dazzled in her beauty.
Sure we have seen celebrities wear tons of see through (remember the 2015 Met Gala event and gowns worn by Beyonce and JLO caused lots of comments). Still, sheer panels and illusion cutouts are even visible in bridal wear as well as prom dresses these days. Keep in mind that it all begins on the runway when designers plant the seed for many trends for good or for bad. Nudity has become more prevalent. If you look around magazine photo shoots are more provocative these days and the envelope gets pushed more than ever. Of course, there is the old adage that sex sells but when is it just too much? Showing a bit of skin can be quite titillating if done the right way. Surely, there is nothing sexier than being confident in your own skin but also leaving something to the imagination is key. In the words of Marc Jacobs, "Young girls need to learn sexiness isn't about being naked". Such a strong and poignant message for young women today.
Do you think that fashion is going too far with so much sheer in their designs? How do you incorporate the sheer trend in your style?
LORD AND TAYLOR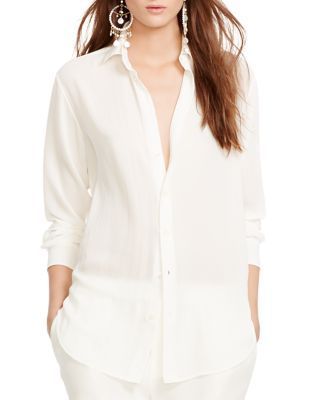 LORD AND TAYLOR
FRENCH CONNECTION